Hagen and Rosskopf Win $2.5 Million For Dekalb County Police Officer
14 Years in the Making: Justice Delayed but Not Denied
The Spring 2016 issue of The Verdict features Hagen's first-person retelling of a 14-year case. The article details a complicated, multi-car crash, the long investigation that followed and an ongoing battle with one of the insurers.
Here is an excerpt:
"The facts of her case were both simple and maddeningly complicated to establish. Shirley, her 17-year-old daughter and a friend were driving south on the 1-75/85 Downtown Connector in Atlanta in the early morning hours of September 22, 2001...

Being close to 4am, the highway was virtually empty. Suddenly, a car driven by "Mr. X" acme flying by Shirley at a high rate of speed, swerved and flipped over, hitting the median wall and bouncing off. Shirley stopped her car to see what had happened and if anyone inside the care needed help. ...

While Shirley's daughter crawled inside the care to attempt to free the driver, Shirley flagged down another motorist and they called for help.

Several people stopped at the scene. However one vehicle did not stop. That vehicle, driven by "Ms. Z," crashed into Mr. X's disabled vehicle, causing severe injuries to Shirley. Ms. Z got out of her car, threw a couple of empty beer bottles over the median, and waited for the police. Ultimately, both Mr. X and Ms. Z were charged with traffic offenses and both were charged with DUI.
"This seemingly straightforward case proceeded to stretch on through a myriad of complications.
"I had no idea that I would still be representing her more than 14 years later on a case that I worked on for more than half of my legal career," explains Hagen. "But that's what it took to conclude the case that, over the years, both haunted and motivated me to see it through to the end, no matter what it took."
A recent article in The Daily Report highlighted a major win by Hagen and Rosskopffor a Dekalb County Police Officer who was hit on I-20.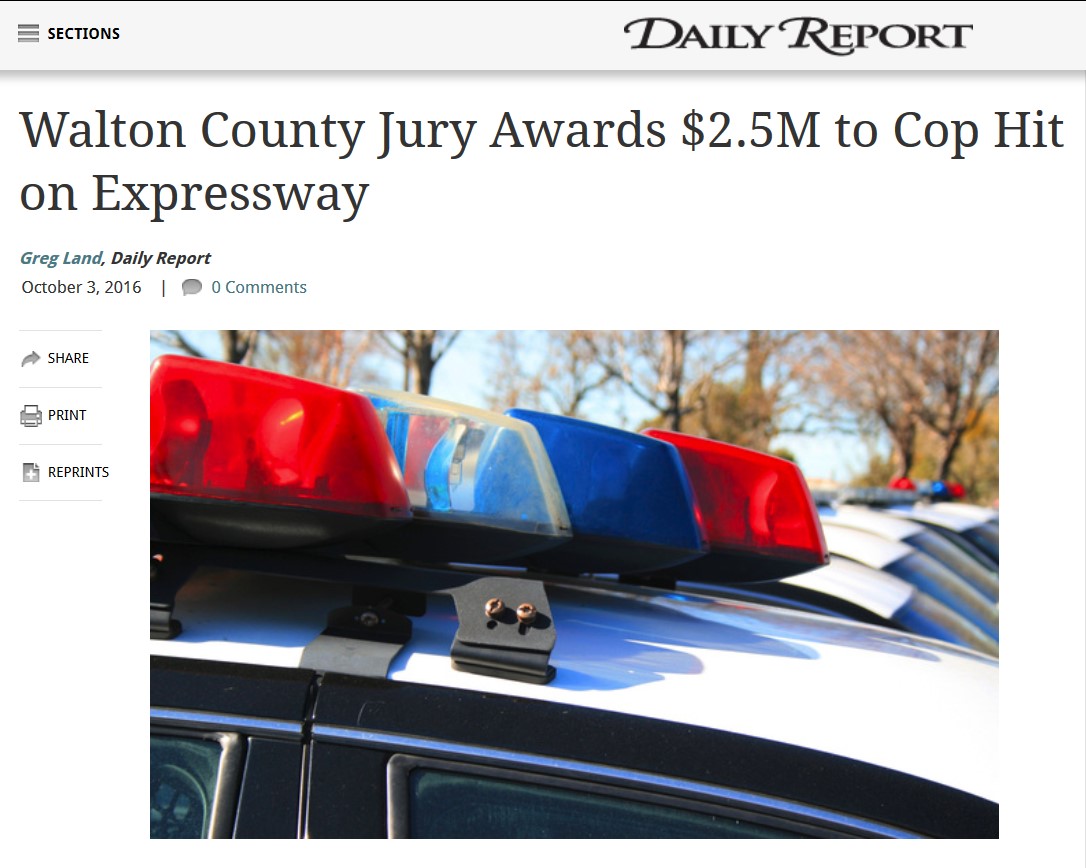 A Walton County jury awarded $2.5 million to a DeKalb County police officer struck as he investigated a 2011 wreck on I-20, rejecting defense claims that the driver who caused the original wreck should shoulder liability for the officer's injuries.
Lead plaintiffs attorney Bruce Hagen of Hagen and Rosskopf said his task was complicated by the fact that the officer—whose injuries included a badly shattered leg—had recovered enough to go back to work, only to wreck his motorcycle two years to the day after the first accident, breaking the leg again.
"That was a big part of the defense's case," said Hagen, who relied on old CT scans to prove that the majority of Officer Daniel Lacoste's injuries were the result of the first incident.
Hagen represented Lacoste along with Esther Panitch and Jim Hodes of the Panitch Law Group.Defense attorney Hilliard Castilla of Waldon, Adelman, Castilla, Hiestand & Prout was not available to discuss the case.
Hagen said insurer State Farm rejected an offer to settle the case for $900,000, below the combined $1.3 million policy limit of Lacoste's uninsured/underinsured motorist and umbrella policies. He said he will seek attorney fees under Georgia's offer of judgment statute. That law says that a party that declines a settlement offer, then loses at trial by at least 25 percent more than the rejected offer, may be ordered to pay the winning party's fees accrued from the date of the offer.
Hagen said they'll also use the bad faith statute, which allows a plaintiff to seek an additional 25 percent of an insured's UM coverage if it can be proved, through separate litigation, that a UM carrier acted in bad faith in refusing to timely pay a claim.
According to Hagen and court filings, Lacoste was investigating a multicar wreck at about 2 a.m. on a rain-slicked section of the interstate when a car driven by Kimyata White approached at a high rate of speed.
Lacoste's cruiser was parked nearby with its emergency lights on, and he was wearing reflective gear that should have made him visible a quarter-mile away, Hagen said. Lacoste suffered myriad injuries including multiple skull fractures, a brain hemorrhage, broken vertebrae, complex leg fractures and brain damage from which he never fully recovered, his filings said.
White was charged and pleaded guilty to serious injury by vehicle and reckless driving, Hagen said.- via Greg Land for The Daily Report