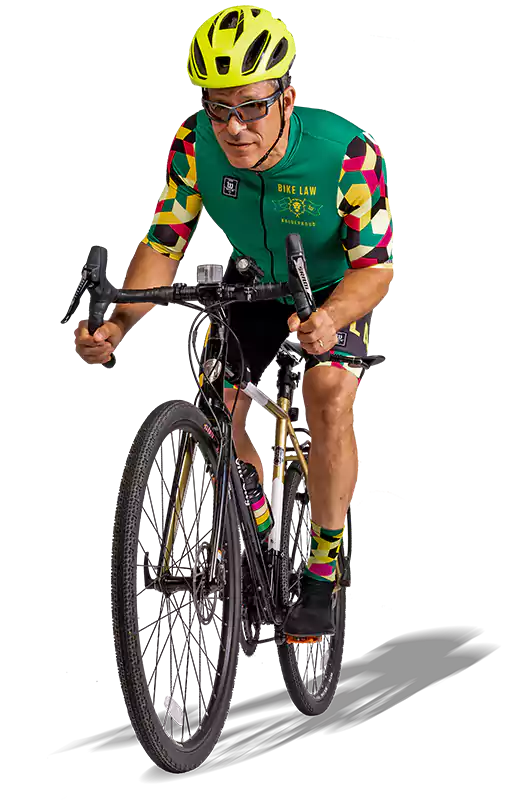 Bicyclist & "Two-Wheel" Advocate
Senior Partner, Bruce A. Hagen
Always Fighting for the Most Vulnerable on Atlanta's Busy Roads
PERSONAL INJURY ATTORNEYS WHO CARE ABOUT YOU
Hagen Rosskopf is a personal injury law firm dedicated to representing and advocating for the most vulnerable road users. 
You won't see our lawyers on highway billboards because at Hagen Rosskopf we value community and quality over volume. Our clients keep coming back to us and refer us to their friends because of our personalized attention, focused client care, and quality legal representation by attorneys who take pride in being "The People's Lawyer."
Pedestrian vs. Vehicle
Everyday more people in Atlanta are walking as a form of transportation and for recreation. Walking is a great way to connect with others. It's good for business and for health. While walking is on the rise, so are pedestrian accidents. If you have been injured as a pedestrian, you will need an attorney who cares about people who walk.
Bicycle vs. Vehicle
If you are a bicyclist riding in metro Atlanta, Athens, Macon or any city in Georgia, you already know how crazy it is out there! Drivers, police officers, insurance companies, and sometimes even personal injury attorneys don't understand bicyclists. If you are involved in a crash, you need to talk to a bike lawyer who is passionate about bikes just as much as you are. If you ask any bicyclist in Atlanta, they will tell you to call Bruce and Ken.
E-scooters vs. Vehicle
Electric bikes, e-scooters, motorized skateboards, velomobiles, unicycles, "hoverboards," and other battery low-speed, dock less "little vehicles" are growing in popularity in Atlanta and all over the country. The way we travel in Atlanta is rapidly changing and Bruce Hagen is on the front line, representing injured e-scooter users, appearing frequently on local news media supporting micro mobility and advocating for the rights of people who ride e-scooters and personal transportation devices.
Motorcycle vs. Vehicle
Car and truck drivers are always supposed to be aware of their surroundings, particularly where motorcycles are concerned. Unfortunately, that is not always the case and over the years Hagen Rosskopf has represented clients who suffered life altering injuries in a motorcycle crash. With results of over $2.5 million in compensation for motorcycle injuries, we are not afraid to fight for you in and out of court.
Car vs. Car
Atlanta ranks as one of the world's 10 worst cities for traffic congestion and statistically you are likely to be involved in a car wreck every 10 years. Regardless of how much you try to follow the laws and drive safely, you can't control how other people drive and one day you may find yourself looking for a personal injury attorney. Getting fair compensation from the insurance companies on your own or by calling a billboard attorney is like driving through Spaghetti Junction during rush hour.
Car vs. Truck
Atlanta's roads and interstates are some of the busiest trucking routes in the nation. Collisions with trucks are far too common and the results are often devastating. If you've been injured in a collision with an 18-wheeler, big-rig, tractor-trailer, or are suffering the loss of a family member due to negligence on the part of a tractor-trailer operator or owner, you deserve justice.  You need an attorney who is familiar with trucking laws, who will build a case with accident scene experts and who has extensive trial and litigation experience.
We Specialize in All Areas of Personal Injury Law
Insurance companies do not want to pay your claim. You need the strength of an attorney and legal team who will skillfully demand and negotiate on your behalf, and if needed will sue, litigate, and defend you in court until you are compensated fairly. Insurance companies know Hagen Rosskopf is a litigation law firm with experienced trial lawyers who look forward to standing up for clients in the courtroom.
What Our Clients Are Saying About Us
Call Now for Your FREE Initial Consultation (404) 522-7553.
Or, Complete This Form and We Will Contact You Promptly
Check Out Our Very Own Bruce Hagen Featured On