A motorcyclist is more at risk than a car or truck driver.
In 2016, in the state of Georgia, 173 people were killed due to motorcycle accidents. The sad truth is that in a motorcycle accident, the motorcyclist is much more likely to be hurt or killed than a car or truck driver. It doesn't help that there is a stereotypical idea of motorcyclists as rebels or rule breakers. It can be difficult to get the insurance company to even believe the motorcyclist isn't at fault.
If you or a loved one has been involved in a motorcycle accident, the first thing you need to do is gather as much information as you possibly can at the scene. Get information from any witnesses that might be around, and get the other driver's information. You may also want to take photos of anything that you think could be relevant.
Do not talk to an insurance company before you talk to a motorcycle accident attorney. You have the right to be represented by a lawyer before you speak with an insurance company.
people were killed in 2016, just in Georgia alone. 
What are the Common Causes of Motorcycle Accidents?
Many things can cause a motorcycle accident. Some of them include:
Speeding – When motor vehicle drivers are speeding, it decreases the amount of time they have to act or react to their surroundings.
Lane splitting or unsafe lane changes – Driving between two lanes or not looking at a driver's blind spot before changing lanes can contribute to a motorcycle accident.
Drivers with less experience – Inexperienced drivers are likely to make mistakes on the road.
Distracted or intoxicated driving – Drivers who are intoxicated or distracted by their phones are likely to cause collisions.
Hazardous road conditions – Potholes, debris, and crumbling pavement are all examples of dangerous road conditions that can lead to a motorcycle accident.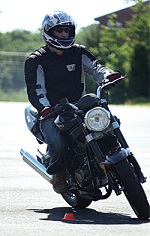 How are Motorcycle Accidents Different from Car Accidents?
Unfortunately, you hardly have any protection when you're on a motorcycle. While cars and trucks are being built with safety features, motorcycles rely on helmets and clothing to protect riders. Two-wheeled vehicles are also more likely to lose control in dangerous conditions. Motorcycle accidents can often result in head and neck injuries because the rider is often thrown off the motorcycle with a strong force.
What are Common Motorcycle Injuries?
Because motorcyclists are so exposed, there are often severe injuries associated with motorcycle accidents. Some of these injuries include:
Concussion
Broken bones
Spinal cord damage
Paraplegia or quadriplegia
Loss of limbs
Severe burns
If you have been involved in a motorcycle accident, the best thing you can do is talk to a personal injury attorney. Contact us today. We are waiting for your call.
READY TO DISCUSS YOUR Motorcycle Accident CASE?