ATLANTA PEDAL PUB CRASHES
Party bikes, sometimes called pedal pubs or pedal bars, are mini bars on wheels that tour around cities. They are part electric, controlled by a driver at the front, and partly powered by passengers who pedal as they drink at the mobile pub.
WHAT IS A PEDAL PUB?
Also known as beercycle, barcycle, pedal crawler, bike par, bierfiets or bierbikes, a pedal pub is a multi-passenger human powered vehicle. These vehicles are often designed to look like early 20th century trolley cars and have seating for the pedalers, a bench seat in the rear, rack-and-pinion steering, and a canopy top. The party bikes are powered by the passengers while the steering and braking is controlled by a driver. They are often available at cities with tourist attractions and a favorite for bachelorette parties and birthdays. Pedal pubs may aim to provide a fun, safe, eco-friendly tour experience but they may also be a conspicuous source of driving under the influence.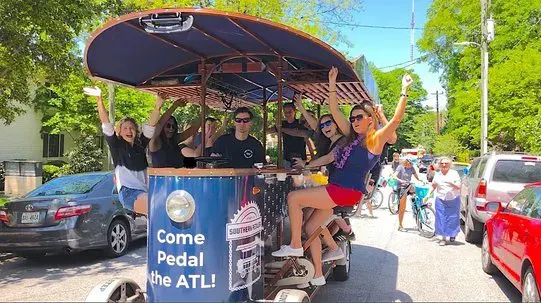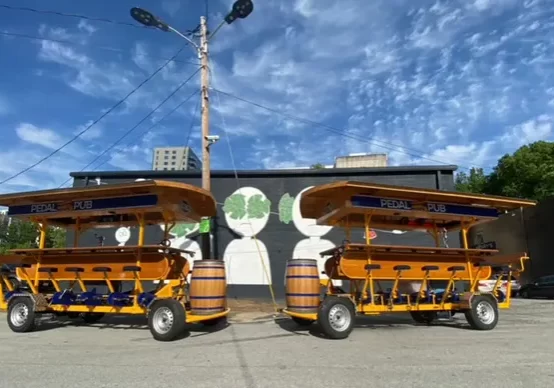 WHO INVENTED THE PEDAL PUB?
Party bikes are manufactured by Het Fietscafe B.V. of the Netherlands. Het Fietscafe is the world's first party bike manufacturer, and the biggest beer bike builder in the world. The idea for building the first beerbike came from the owner of a local pub in the Netherlands who wanted to promote his pub at a parade on Queens Day. Henk en Zwier van Laar invented and developed a multi-persons-bike. To date, Het Fietscafe has sold party bikes all over the world including over a hundred pedal bar bikes in the USA.
Pedal Pub, national franchise, claims to be the original U.S. party bike with over 60 franchised and licensed locations across the United States and Canada.
CAN I BRING ALCOHOL ON THE PEDAL PUB?
Patrons of a beer bike in Amsterdam can opt to include a chilled barrel of beer with the ride. However, due to city and state regulations and open container laws in the United States, not all pedal pub locations allow patrons to bring alcohol on board of a party bike. In Atlanta, Pedal Pub Atlanta's website states that patrons can bring their own beer or wine.
While patrons can drink alcohol while riding on a pedal pub, a non-imbibing driver provided by the tour company is responsible for steering and braking.
ARE PEDAL PUBS SAFE?
Pedal pubs can be operated safely when both the driver and the passengers are riding in a responsible manner and following the rules of the road on a route that is appropriate for a slow-moving vehicle or "transportainment" vehicle. However, the safety of the user is a concern when there is alcohol involved whether it is in a car, a bicycle, or a party bike. We should all remember that regardless of the vehicle of choice it is never safe to drink and drive. Furthermore, in Georgia it is illegal to drive while impaired.
Pedal Pub operators are responsible for providing a safe experience by ensuring that the party bikes are well maintained and in a safe functioning condition. Additionally, and perhaps even more paramount is the operator's responsibility to furnish the patrons with a driver who is trained to handle and maneuver a party bike, who will refrain from driving under the influence and who will prioritize the passenger's safety above all.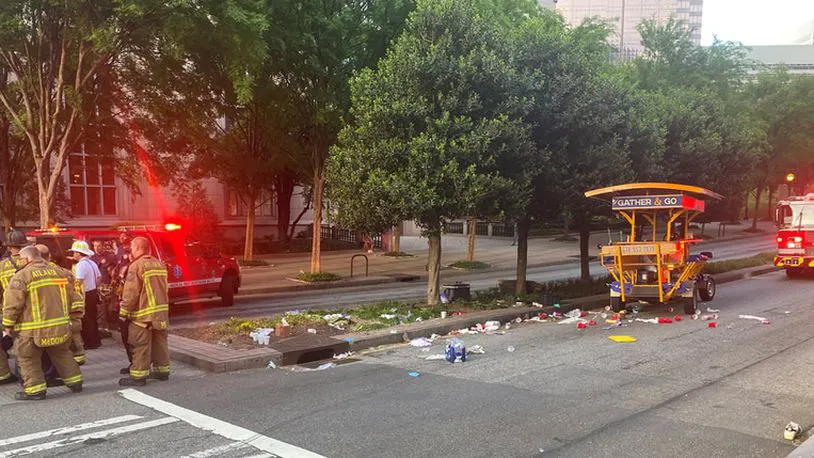 WHAT TO DO IF INJURED ON A PEDAL PUB
While growing in popularity, beer bikes have also been at the center of crashes resulting in injured passengers.
PEDAL PUB CRASH INJURIES
Common injuries after a pedal pub accident may include but are not limited to:
Neck pain
Back pain
Bone fractures
Skin abrasions
Road rash
Bruising and swelling
Soft tissue injuries
Concussions
In some instances, victims from accidents involving a mobile pedal bar have required hospitalization, surgeries and extensive physical therapy to recover.
Midtown Atlanta witnessed a pedal pub crash resulting in 15 injured patrons on April 30, 2022. Two of the injured victims suffered critical injuries and were transported by ambulance to Grady Memorial Hospital. The driver of the pedal pub was charged with DUI and arrested at the scene.
WHY DO I NEED A PEDAL PUB LAWYER?
Party bike crashes are not as common as car wrecks, so not every personal injury lawyer in town may know how to handle a case that may require detailed investigation to identify the insurance company involved, the liable corporate parties, and proper evidence preservation. Bike accident lawyers and attorneys that have a passion for vulnerable road users may be better equipped to provide the experience and insight needed to handle a claim involving a pedal pub crash. Always talk to a lawyer, have your questions answered and be advised of your legal rights before communicating with any insurance company agent or representative.
An experienced attorney can also help you navigate:
Property damage including damage to your clothing, personal items and other equipment.
UM/UIM (uninsured and under-insured) coverage and Medical Payments coverage that you may not be aware of.
Accident reconstruction experts and preservation of evidence like video footage of traffic cameras, police body cams, audio of 911 calls, etc.
Claim negotiations, settlement negotiations and health insurance subrogation claims.
A consultation with our law firm about your pedal pub crash is always free and there is no obligation to take any type of legal action. The best way to protect your rights is to know your rights.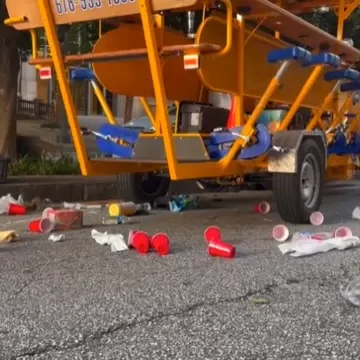 ready to discuss your pedal pub crash?