Awards For Hagen Rosskopf Attorneys
Hagen Rosskopf, LLC's award-winning legal team has been recognized for decades for our work in several specialty areas of personal injury law. Our lawyers are top-rated, awarded distinctions by Super Lawyers® and Super Lawyers® Rising Stars℠, and Martindale-Hubbell. Super Lawyers® awardees are nominated and vetted through a stringent, five-phase selection process. Martindale-Hubbell awards its top Martindale-Hubbell AVPreeiminent designation to lawyers that earn the highest ratings among peers.
Hagen Rosskopf is also recognized by and affiliated with several legal organizations, associations and institutions, including The National Trial Lawyers Top 100, The Georgia Trial Lawyers Association (GTLA), American Association for Justice, and Avvo.
Bruce A. Hagen
Bruce A. Hagen, founder of Hagen Rosskopf, is a top-rated personal injury attorney and legal advocate based in Decatur, Georgia. For over 35 years, he has represented more than 10,000 clients in over 6,000 personal injury cases in the state of Georgia.
Bruce comes highly recommended among peers of the legal community and clients alike. This year, he was recognized among 2021 Super Lawyers®, a distinction he has earned for 16 consecutive years. He is also once again ranked as a Martindale-Hubbell AVPreeminent lawyer for 2021.
Bruce regularly speaks at legal seminars at the Georgia Trial Lawyers Association, where he is recognized as a GTLA Champion, and at the Georgia State College of Law. As a member of the American Association for Justice, Bruce Hagen has also co-authored the book Litigating Minor Impact Soft Tissues Cases, Vol. 1, 2, 3. Bruce is a also frequent guest on 680 The Fan, a regular contributor on Atlanta Eats TV and Atlanta Eats Radio, where he can often be found discussing Georgia's personal injury law. 
As an advocate and bike law attorney, Bruce has testified at the Georgia House Committee and at Atlanta City Hall about bicycle safety. He collaborated with Dunwoody City Council on crafting the language for a Vulnerable Road User ordinance which was eventually passed in 2019, making Dunwoody the first city in Georgia to enact such a law. Most recently, Bruce worked with Georgia Bikes to clarify the language of the "3 Foot Law," and its modifications were passed into law in 2021.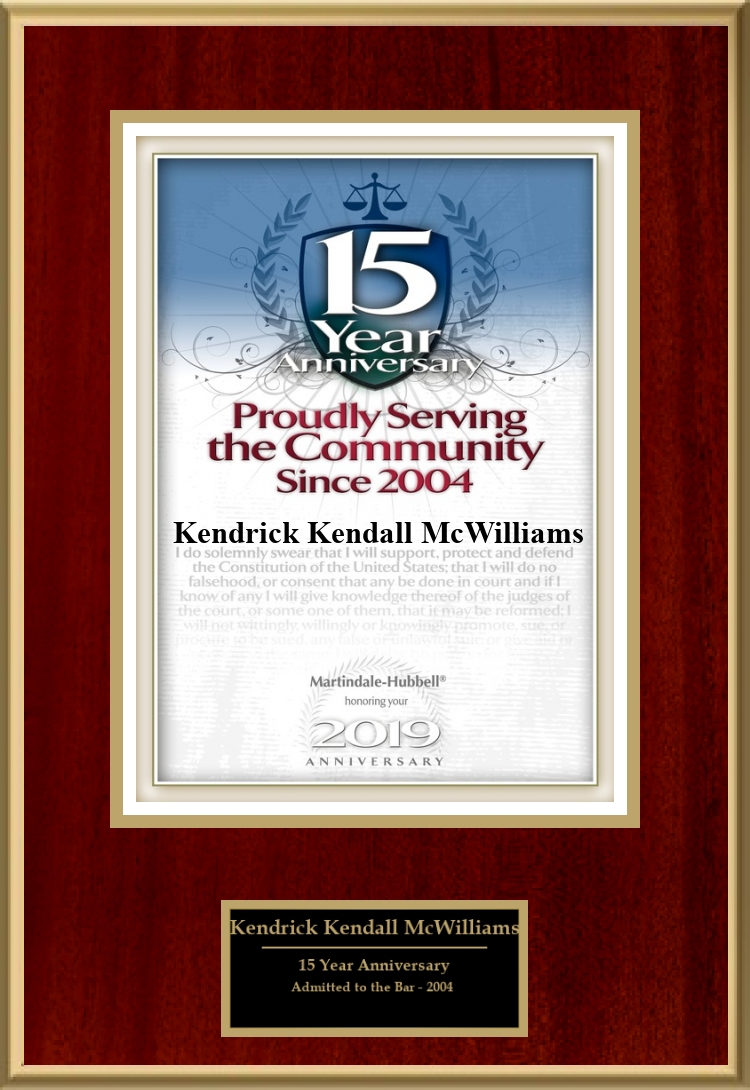 Kendrick K. McWilliams
Litigation trial lawyer Kendrick K. McWilliams, Sr. has been practicing law for more than 15 years. Kendrick spent 11 years defending corporations and insurance companies in personal injury matters ranging from car accidents, dog bites, premises liability, wrongful death, municipal liability and police misconduct cases throughout the state of Georgia.  In 2014, he joined Hagen Rosskopf to pursue a more meaningful career as a zealous advocate for plaintiffs seeking justice in the courtroom. Kendrick is honored to have the opportunity to use his technical knowledge and skill in the law, and his insight into how corporations and insurance companies defend injury claims, for the benefit of his clients.
Born and raised in Chicago, he attended St. John's University (MN), obtaining his Bachelor of Arts in Communication. While there, he was a member of the football team, playing under legendary coach, John Gagliardi. Kendrick earned his Juris Doctor from Mercer University's Walter F. George School of Law.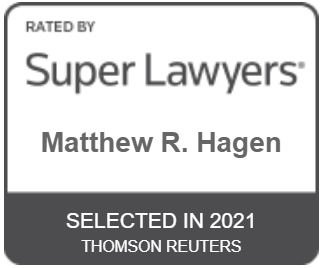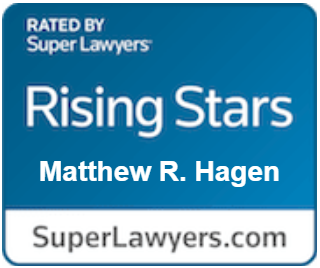 Matthew R. Hagen
Matt R. Hagen is a trial lawyer who dedicates his career to helping individuals and families who have been injured as a result of the negligence of others. Specializing in car wrecks, bicycle crashes, pedestrian accidents, dog bites, and slip and fall cases, Matt seeks to connect with every client in a way that allows him to fully understand their story, and thereby achieve the best possible result through fierce advocacy, whether it be at trial or mediation.
This year, Matt was once again recognized among 2021 Super Lawyers® Rising Stars℠, a designation he has earned every year since 2018. In a recent case, Matt won a $1,000,000 judgment in a Zoom bench trial on behalf of a well-deserving client.
Matt is admitted to practice in all state courts within the State of Georgia and in the federal district court in the Northern District of Georgia.
Hagen Rosskopf is Top Rated by Avvo Users
Every day, millions of legal clients turn to Avvo to find a lawyer they can count on to best represent them.
Personal injury attorney Bruce Hagen, comes highly-recommended for a wide range of matters including brain injuries and other personal injury claims due to car accidents and bicycle accidents, with a "10.0 Superb" rating on Avvo.com. According to reviews on Avvo, Bruce Hagen represents clients with the highest level of professionalism, genuine concern, and skill.
Highly-Regarded Among Peers: Hagen Rosskopf Leadership Continues to Receive a Martindale-Hubbell AVPreeminent Rating
For many years running, Bruce Hagen, has received a Martindale-Hubbell AVPreeminent rating, the highest possible rating a lawyer receives for professional excellence on Martindale-Hubbell's peer review scale. 
Practicing in Georgia since 1986, Bruce Hagen has received elite marks for his work in the areas of bike law, traumatic brain injury, car accidents, personal injury, litigation and trial from peers in several categories—including communication, legal knowledge, and legal experience.
Expert Trial Lawyers Dedicated to Personal Injury Plaintiff's Rights
At Hagen Rosskopf, our clients are represented by a legal team of expert, experienced trial attorneys. Recognized by The National Trial Lawyers: Top 100, our legal team has represented several thousand plaintiffs in tens of thousands of personal injury matters, including car accidents, bike accidents, medical malpractice claims, negligence claims, slip and fall accidents, and general liability claims,  with high rates of success—whether they are resolved in mediation or during trial.
Members and Champions of the Georgia Trial Lawyers Association
Hagen Rosskopf attorneys are proud members of the Georgia Trial Lawyers Association (GTLA), an organization that dedicates resources to ensuring Constitutional rights for all, by working for the right to trial by jury, preserving an independent judiciary, and providing access to the courts for all people across the state of Georgia.
We continue to be recognized Champions of Justice by GTLA for our legal advocacy and legal education work for members of our communities in the metro Atlanta area and across the state of Georgia. Bruce Hagen, who works tirelessly to preserve and improve Georgia law to protect Georgians, also sits on their Civil Justice PAC Board of Directors.
Published Members of the American Association for Justice (AAJ)
Hagen Rosskopf attorneys are dedicated members of the American Association for Justice (AAJ).  As members, we participate in the AAJ's important community, legal advocacy, and legal education work to preserve Americans' right to trial by jury and protect clients' rights, and the American civil justice system.
In addition to our work on behalf of this cause, Bruce Hagen, has co-authored several volumes of the AAJ Press/Thomson Reuters publication, Litigating Minor Impact Soft Tissue Cases, which provides personal injury attorneys with crucial legal and medical guidance needed to represent their clients effectively in these matters.