2016 Georgia Trial Lawyers Conference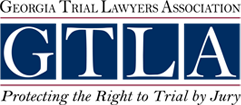 Last month, Bruce Hagen represented Hagen and Rosskopf at the Georgia Trial Lawyers Association's Annual Convention. Held at the Ritz-Carlton in Atlanta, the GTLA Convention offers attorneys legal education for up to 14 hours of Continuing Legal Education (CLE) credits.
Bruce Hagen served as a co-chair of the GTLA Annual Convention, and was asked to speak because of his intimate familiarity with the specifics of bike law. Hagen spoke to about 100 trial lawyers about the unique aspects of representing people who are bicyclists and pedestrians. "There are a lot of different laws that apply specifically to people on bikes," explains Bruce. "There's a difference in the way that you investigate bike claims.
"The GTLA Convention featured eight education tracks, and Hagen served as co-chair of the Auto Car Wreck track. The GTLA also offered education on products liability, new plaintiff lawyers, motor vehicle cases, advanced evidence, premises liability, media training, trucking and practice and trial technology.
"We're proud to be among the leaders in the GTLA," says Bruce. "It's a well-respected organization that does a lot for Georgia's families and communities."