15 People Injured on a Pedal Pub in Atlanta
Fifteen people were injured after a Pedal Pub tipped over in Midtown Atlanta on April 30, 2022. Two of the passengers suffered critical injuries and three others were in serious condition sparking a nationwide discussion about the safety of alcohol fueled party bikes.
How Do Pedal Pub Bikes Work?
The pedalers sit around a central bar counter, facing each other and pedal together to propel the pub forward. Party bikes do not have an engine powering it like in a car. The responsibilities of steering and braking are relegated to the operator sitting in the front. Although, a party bike may look like a giant bike, they are built with automotive-grade hydraulic brakes and a rear axle.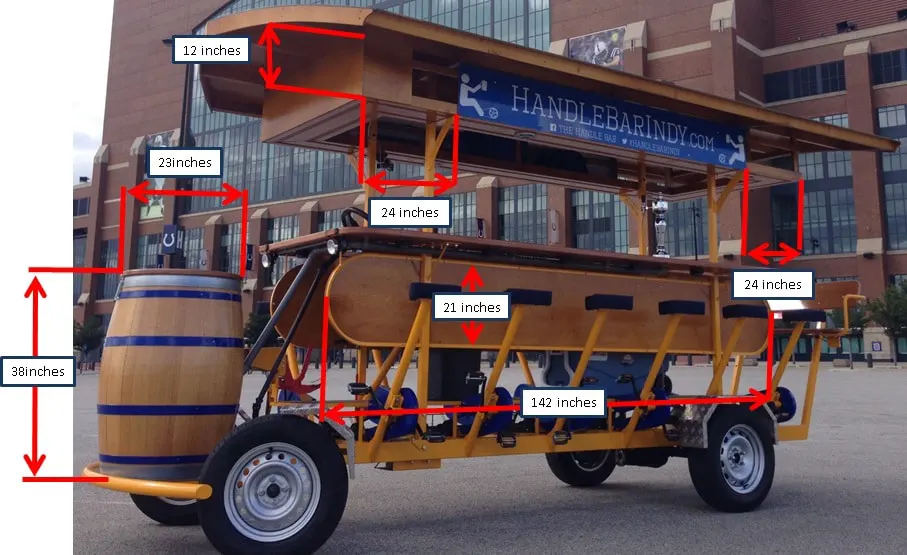 Are Pedal Pubs Hard?
Pedaling a party bike with 12 to 16 people on board is probably a lot of hard work. On average a pedal pub bike weighs 1,600 pounds before any of the passengers even get on it. Additionally, most pedal pubs also include a few seats for people who aren't pedaling.
Pedaling in a city like Atlanta with hilly terrain everywhere would require a full group of eager and athletic pedalers. Azure Bikes and some other manufacturers offer an electric pedal assist motor to aid the patrons on hilly routes.
Do Pedal Pub Operators Receive Special Training?
According to Pedal Pub's website, the pilots undergo a Pilot Certification Program. It is not clear what type of training is offered through this certification program, whether it includes physical training to learn how to maneuver a vehicle such as a pedal pub or if it's limited to learning the routes and how to interact with customers.
Todd Treml, President of Pedal Pub Development, commented on the Atlanta pedal pub crash: "The safety of our customers is our top priority, so we were shocked and saddened to learn of the situation involving one of the independently owned and operated franchises in Atlanta."
We certainly hope that franchisee operators are providing additional training to their drivers and promoting safe driving practices to ensure the safety and wellbeing of the passengers on the pedal pub.
Other Party Bike Crashes
On August 15, 2013, in a downtown Minneapolis, a full party bike operated by Twin Cities Pedal Pub tipped onto its right side. Two of the riders were injured and had to be transported to a hospital by ambulance.
In June of 2015, 12 people were seriously injured when a car rear-ended a party bike on a bridge in Minneapolis. The driver of the at fault car was arrested under the suspicion of driving under the influence.
In 2017, a New Jersey woman sued Sprocket Rocket, Nashville's popular party bike and pedal tavern tour company. The victim alleged that when her foot slipped off and hit the pavement, the driver was unable to hear her screams over the loud music.
In August 2018, twelve co-workers from Sioux Nation Pet Clinic were on board of Sip-N-Cycle In Sioux Falls, South Dakota when they were hit by a drunk driver who was driving without a license or insurance.
Midtown Atlanta was the scene for the latest pedal pub crash injuring 15 fifteen people. James Anthony Johnson, the pedal pub operator was arrested on the scene and has been charged with DUI. Surveillance video and body camera footage have been re-played on national and international news outlets since the day of the crash.
What's Next for Pedal Pub?
Within the last few years, party bike tours have become fixtures in many U.S. cities, including Nashville, Denver, Portland, Minneapolis and more. In Georgia, both Savannah and Atlanta have bike bars available to book tours. Pedal Pub is the original U.S. party bike company and the main pedal pub franchisor in the country.
The party bike accident in Atlanta captured local and national headlines and may set a legal precedent for this growing industry. Atlanta and other cities in Georgia may see tighter regulation, enforcement of local ordinances and perhaps a new discussion about allowing "transportainment" vehicles and people drinking on a mode of transportation.
However, just because Pedal Pubs don't fit neatly under traffic laws it does not automatically mean that they don't belong on Atlanta streets. Although tragic, this crash may serve as an opportunity to ignite a greater conversation about vulnerable road users, alternative mobility, the consequences for drunk driving, and the right to be safe on the road.