$300k Settlement After Dog Bite Causes Severe Injuries To Elderly Man On A Walk
A 72-year-old man was out for a walk when he was viciously bit in the arm by a dog on a leash. Dog bite attorney, Matt Hagen obtained a $300,000 settlement for his injuries.
CASE STUDY: DOG BITE
In March of 2021, Michael was out for a walk in his neighborhood in Fulton County when he encountered a woman walking with her dog. Michael was headed in the opposite direction than the woman and moved out the way to let her pass. Despite his efforts to stay at a safe distance, the dog lunged off the sidewalk and bit his arm.
The bite was so severe that it caused a deep laceration that required twenty-eight stitches, extensive wound care, and additional medical care to treat a bacterial skin infection caused by the dog bite. Michael had to endure more than a year of medical treatment to heal and faced a mountain of medical bills mounting to almost $100,000.00.
Michael called us early on because he had never been through a dog attack before and didn't know what to do. One of the first steps we took was to set up a dog bite injury claim with the dog owner's homeowners insurance policy. At that time, the insurance adjuster DENIED liability for the claim. His argument was that the dog was on a leash and there was nothing more than the dog owner was supposed to do.
We didn't take no for an answer.
In Georgia, the liability of dog owners is governed by O.C.G.A. § 51-2-7 and there are some additional laws that come into play depending on the local municipality where the dog bite occurred. Upon research, we discovered that in Johns Creek, where the bite occurred, there was an applicable ordinance. Johns Creek's Code of Ordinances Chapter 10, Article V, Sec. 10-115 dictates that a dog must be "restrained by a substantial chain or leash and shall be under the restraint of a responsible person."
We now had an ironclad argument:  this dog was not under the restraint of a responsible person. If it had been there is no way that the bite would have occurred.
When we made the demand on Michael's behalf to the homeowner's insurance company, the same adjuster that had initially denied the claim, paid the full policy limits of $300,000.00 within weeks of receiving our demand letter.
We were able to recover every single dollar available from the insurance company for Michael's injuries.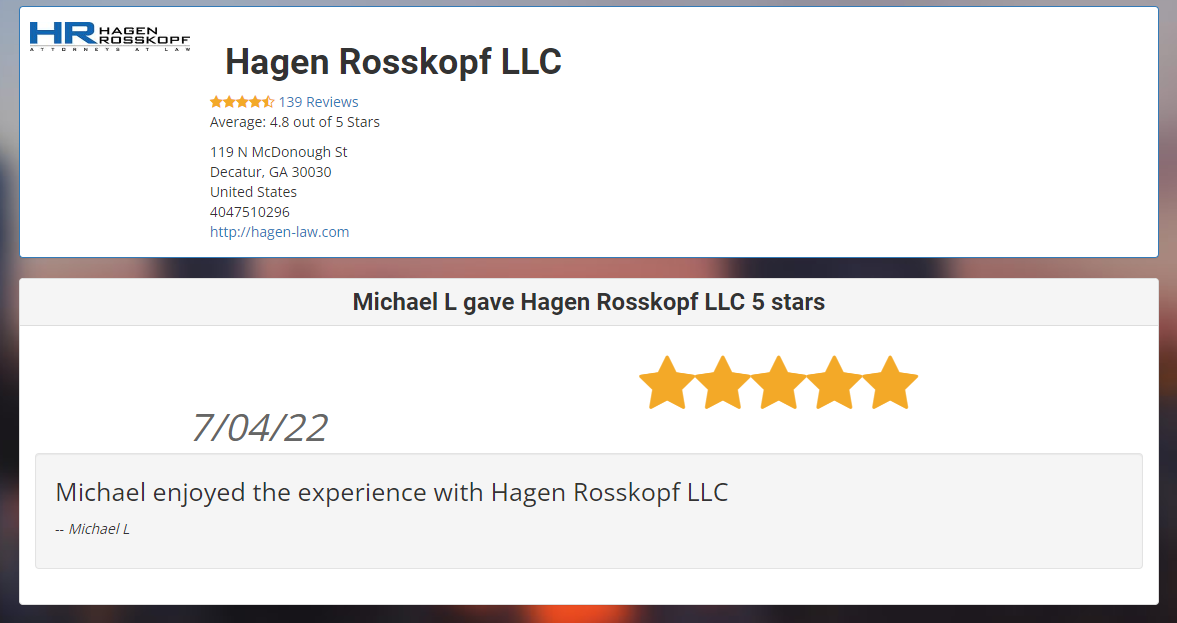 WHAT DO IF YOU ARE THE VICTIM OF A DOG BITE IN GEORGIA
Not every case is going to be like Michael's but if you ever find yourself in a situation in which you are bit or attacked by a dog there are 3 things that you absolutely must do:
Seek medical care immediately for your injuries. That needs to be the top priority for you.
Report the incident to the local county Animal Services. This helps to start a record of the incident occurring and can be useful when investigating who is the dog owner, and later setting up a personal injury claim with the homeowner's insurance.
Talk to a lawyer. The aftermath of a dog bite can be a difficult and tricky process. You will need someone who is experienced in dog bite laws and who knows what they are doing to help you.
HOW MUCH DOES IT COST FOR A DOG BITE LAWYER?
Hagen Rosskopf's dog bite lawyers do not charge any upfront fees. A consultation with Matt Hagen or any of the other lawyers at our firm is always free. If you decide to retain us, our dog bite lawyers will operate under a contingency fee contract and will not recover a fee unless you receive a settlement for your injuries. Avoid pitfalls, mistakes, and low offers by trying to fight your dog bite claim on your own.