Hagen Rosskopf's team helps Santa get bikes for kids
We had no idea what we were getting ourselves into when we volunteered to host a collection day for Free Bikes 4 Kidz ATL in May 2021 on our front lawn. Inspired by our neighbors who donated 52 bicycles on that day we decided to offer our office as a 24/7 drop off location for anyone interested in donating a kid's bike.
The word spread and over the next months we received daily donations of bikes. There were pink bikes, yellow bikes, bikes with tassels, bikes with baskets, Spiderman bikes, green bikes, little bikes and big bikes. There were so many bikes, enough to fill up our entire basement. Some bikes were just a little dusty and others needed some TLC but each of these bikes were going to put a big smile on a kid this Holiday season. Truth be told, the bikes put a smile on our face every week.
By the end of October, we had collected 180 bikes for kids who would receive them through Free Bikes 4 Kidz ATL. This amazing non-profit organization has given away thousands of bikes to under resourced kids in more than 100 cities across the US. Since 2016, kids in metro Atlanta have been riding into a happier and healthier childhood thanks to Free Bikes 4 Kidz ATL.
After being retrieved from our office by FB4K volunteers the bikes were cleaned up and repaired by an army of bike mechanics, teenagers, bicyclists and even by 2021 U.S. pro national road race champion Joey Rosskopf.
We played a tiny role in the magic that took place at the 6th Annual Bike Giveaway Day. FB4K ATL refurbished and gave away 700 bikes and new helmets to kids from all over metro Atlanta. Each kid was assisted by a volunteer to help them find the bike best suited for them and the entire experience made each kid feel like they were getting a very special bike. For many of the kids at the Giveaway Day this was their very first bike.
When asked if we were going to collect bikes again in 2022, we wholeheartedly answered "yes". We can't wait to fill up the basement again with kids bikes and we are going to need your help to do that. Stay tuned for more details on our 2022 bike collection and volunteer opportunities.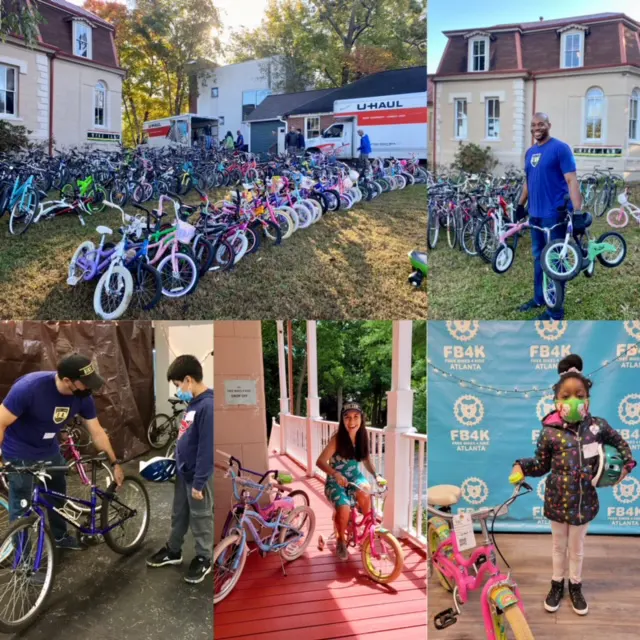 NOT JUST A PERSONAL INJURY LAW FIRM
Our attorneys and team members are committed to helping people who have been injured by the negligence of others while driving, riding a bicycle or walking. Taking care of our clients and their cases is our daily No. 1 priority. When our team isn't doing the lawyer thing we are busy advocating for safer streets for all, fighting for the rights of cyclists and collecting bikes for kids.