Can scooters and Atlantans coexist this time?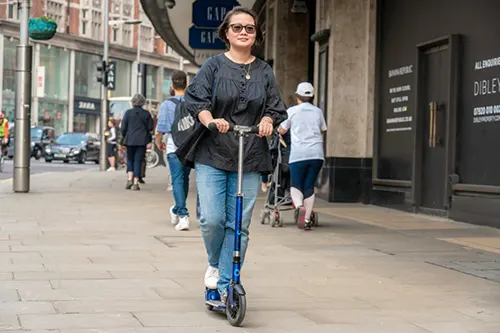 We all remember 2018 and 2019's "Scootergeddon", the litter of e-scooters on sidewalks, and the reactionary ordinances from City of Atlanta officials in the aftermath of a wave of injuries and 4 deaths. Many Atlantans were left with mixed opinions about the e-scooters and whether we are capable of adopting mobility goals to address the traffic congestion and inequity in transportation.
Atlanta's first experience with e-scooters was admittedly problematic but it also provided a new alternative for connectivity in metro Atlanta and a fun way to explore the Beltline and Atlanta's many green spaces. It also sparked an important conversation about mobility goals, equity in transportation, and alternatives for people who don't want to use a car or don't have access to a vehicle.
Under a new permitting process, Atlantans and visitors can use Bird, Lime and Spin shared e-scooters.  Reduced speed zones in areas like the Beltline and City of Atlanta Ordinance 19-0-1322 remain in place while e-scooter riders are making a comeback.
Can Atlanta mitigate the problems that e-scooters first brought?
"We worked really hard to eliminate issues with scooters being on the sidewalks", said Ashley Finch, Atlanta's newly named Shared Micro-mobility Coordinator. Ashley Finch is responsible for the development, regulation, and day-to-day administration of the City's bike-share program, e-scooters and dockless stations.
While City of Atlanta DOT explores and implements new strategies to incorporate light individual transportation options, scooter riders still face negligent car drivers and a lack of infrastructure for safe scooter riding. Although the main driver for regulation back in 2019 may have been injury prevention, the focus now appears to be transit equity and safety. In an interview with WABE, Ashley Finch also stated, "we are really focused on safety, safety is paramount to everything that we do".
The progress made by Atlanta DOT is certainly promising and the addition of a new "Micro mobility Czar" is a hopeful signal of city officials recognizing the need for more "last mile" connectivity and fun mobility options for the people in Atlanta.
If you have been injured while riding an e-scooter, give us a call!! Our attorneys are always available for a free consultation.