ABA Article Acknowledges The Important Work of Bike Law Attorneys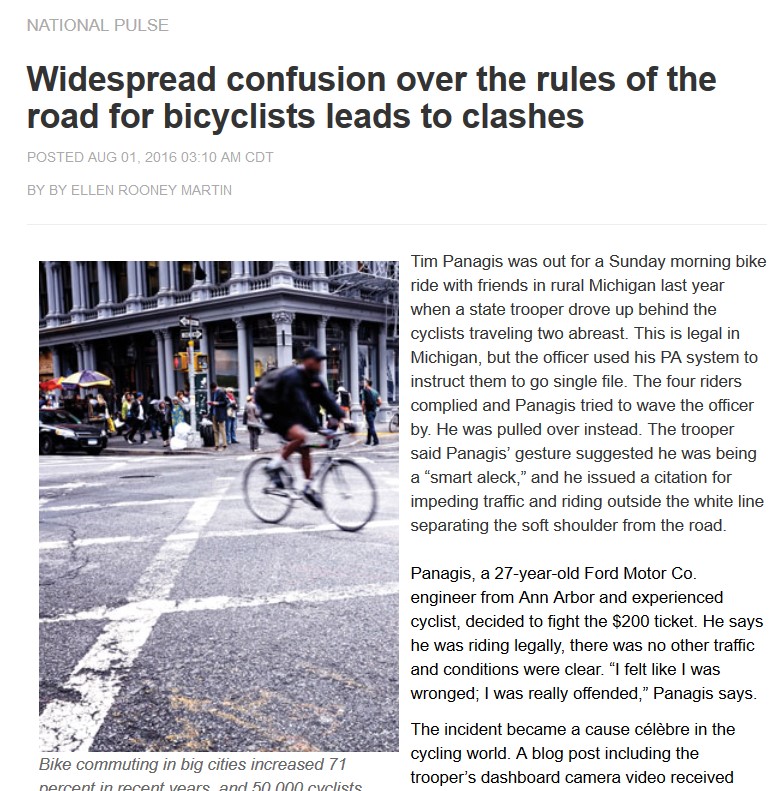 A recent article in the American Bar Association Journal looks at how difficult it can be to understand the complicated "rules of the road" for bicyclists. The article features quotes from multiple Bike Law attorneys.
The mishmash of bike laws and lack of understanding them prompted Charleston, South Carolina, attorney and competitive cyclist Peter Wilborn to create Bike Law, a network of attorneys who work with clients involved in bike crashes and other cycling disputes.

...

One of those lawyers, Decatur, Georgia, attorney Bruce Hagen, made it his mission to educate local law enforcement. He visits police stations to pass out copies of the Georgia Bicycle Law Enforcement Pocket Guide. Hagen says he gets mixed reactions when he speaks at information sessions. "There are folks who are interested in learning about it, folks who are interested because they had to be and folks who are hostile to it," he says.
The article also takes an in-depth look at cycling culture around the country, highlighting the growing population of cyclists in the Atlanta area.
Cities and towns are gradually adjusting to having more bikes on the roads. Atlanta is relatively new to the cycling culture and plans to unveil a bike-share program. Becky Katz, Atlanta's chief bicycle officer, says the city already has painted bike lanes on streets, the quickest way to encourage a separation of people-powered and motor vehicle traffic. And it has created some partially protected lanes with raised curbs separating autos and bikes.

"We want to bring more balance to the streets," says Katz, whose position was created in late 2015. "Whatever mode we're moving in is the one we feel entitled to in that moment.

"Still, she's convinced that cycling can make a dent in Atlanta's notoriously gnarly traffic. "Change is hard, projects can be challenging, and everyone wants to know how these changes will affect [their] commute," Katz says.