Hagen Lawyer Team Overcomes Insurance Company Bad Faith to Win $14M Verdict For Family
Personal injury attorneys, Bruce Hagen and his son Matt Hagen obtained a $14 million jury verdict in DeKalb County for the parents of a 6-year-old boy who tragically lost his life in a car crash. 
Andrew Evans was a happy and bright 6-year-old. He was only days away from his 7th birthday. 
On July 27, 2018 Andrew was a passenger in a vehicle that was involved in a motor vehicle accident on GA State Route 140 in Bartow County. He was severely injured and did not survive the car crash. 
In August 2018, a time limit demand letter was sent to Direct General, the insurance company for the at-fault driver requesting that the entire policy limits available be tendered to Andrew's parents. The negligent driver only had an insurance policy of $25,000, the minimal coverage limits required in Georgia. 
Direct General chose to not pay the policy limits. In legal terms the insurance company acted in bad faith.
This case was featured in a ALM article. Read the full article here.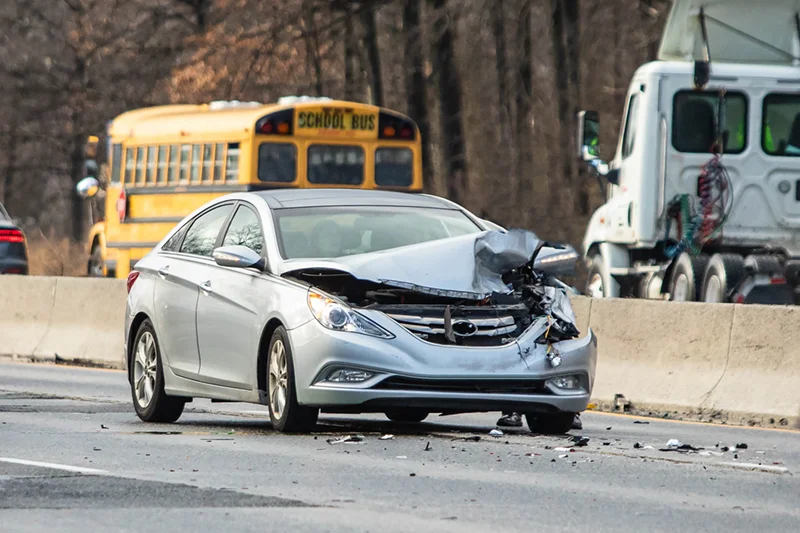 What is Bad Faith?
Under Georgia law all insurance companies are required to "act in good faith" and to uphold the obligations required under their contract. In general terms, an insurance company is acting in bad faith when it delays, withholds, or denies legitimate claims filed under valid insurance policies.Both a policy holder and an injured party can be affected when an insurance company fails to full its fiduciary obligations. When this happens, an insurance company can be held liable for bad faith and breach of contract. Learn more about bad faith insurance claims.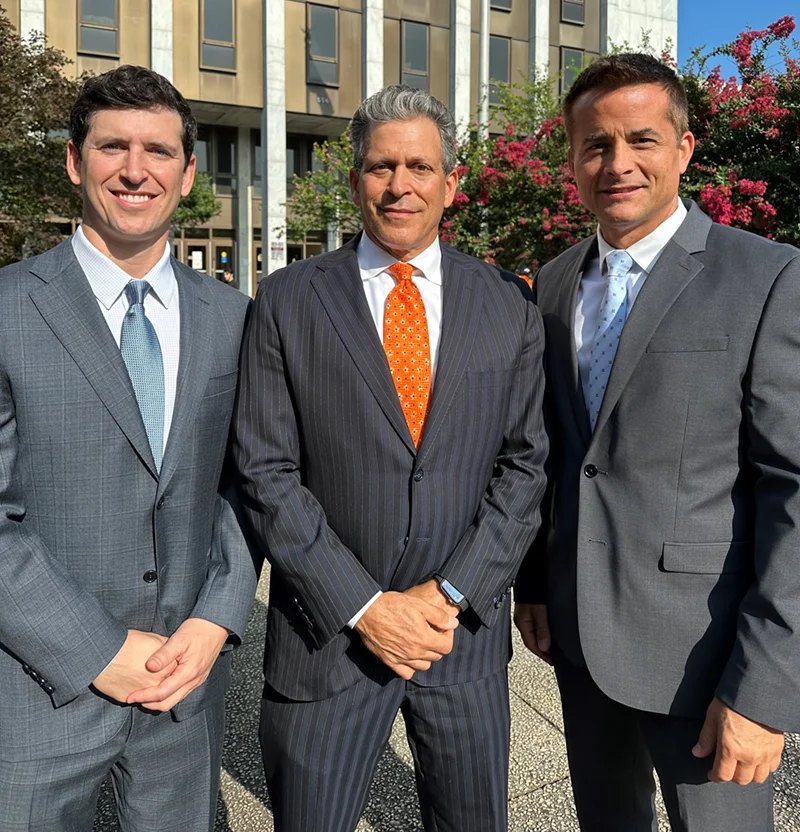 Personal injury litigation lawyers Bruce Hagen,
Matt Hagen, Bill Parker
Seeking Justice for a Wrongful Death When an Insurance Company Acts in Bad Faith
Andrew Evan's parents found themselves not only grieving the loss of their only child but also at the beginning of a long legal fight against the insurance company for wrongful death damages, in addition to attorney's fees for bad faith. When an insurance company refuses to settle in a situation in which the value greatly exceeds the policy limits, a victim may be able to win a verdict against the at-fault driver for more than the policy limits. 
Bruce Hagen and Matt Hagen from Hagen Rosskopf and Bill Parker from Montlick & Associates formed a strong legal team determined to bring justice to Andrew's parents. The policy limits that Direct General failed to offer were no longer relevant and the only thing that mattered was the full value of Andrew's life. 
A lawsuit was filed in October of 2020 in the State Court of DeKalb County. Despite multiple attempts to settle the lawsuit, the insurance company showed little interest in making a fair offer. About four years after Andrew lost his life and about two years before the trial, a demand for $8 million was sent to the insurance carrier. Direct General responded with an offer of $25,000, the policy limits. It's hard not to agree with Andrew's parents and their lawyers; this was too little and too late.
Preparing for Trial in a Wrongful Death Case
The biggest challenge in the case was how to explain and persuade the jury of the monetary value of a young child's life. Bruce Hagen and his team retained an expert economist to calculate the potential worth of Andrew's lost wages, lost benefits, lost household services, and to testify in the trial. 
In the weeks before the trial, they also conducted focus group testing to get a better understanding of how the jury may view the case. Putting a dollar value on the life of a child is a difficult task for anyone. Formulas based on extensive studies and empirical data can help to calculate the earning potential and economic impact of a life. But how do you calculate the human experience? 
Ultimately, much of the trial strategy was determined by the information gathered through focus group testing. Although the wrongful death damages are based on economic and non-economic damages, the 3-trial lawyer team decided to squarely focus the trial on the human loss.
Why do attorneys use focus groups in big cases?
Focus groups are an important tool for personal injury trial lawyers and their legal teams. They provide qualitative information into how people think, talk, and feel about specific topics. They also provide useful insight into how the jury may react to the evidence presented in trial. Focus groups do not predict the outcome of a trial or if a juror may come to a favorable decision. However, they do provide valuable and reliable information and help trial lawyers discuss and re-assess the strengths and weaknesses of a case before going to trial. 
A seasoned trial lawyer will use tools such as focus group testing to develop their strategy for trial. Keep this in mind when interviewing a potential litigation attorney for your case and ask them how they prepare for trials.
The Trial
Evans v. Hirsch, No. 20A82655, in the State Court of DeKalb County, went before a 12-person jury on July 18, 2023. Chief Judge Wayne Purdom presided over the trial. Personal injury trial lawyers, Bruce Hagen and Matthew Hagen represented Andrew's mom and Bill Parker from Montlick & Associates represented Andrew's dad. The defense attorneys were Ann Gower and Jason Darnielle from Gower Wooten Darnielle. 
The jury did not have to determine if the negligent driver was responsible for the fatal car crash or not. The facts of how the car crash occurred and who was at fault were established long before the lawsuit was filed. The jury did not receive facts or information about the bad faith claim. 
During the two-day trial, the jury listened to the testimony of two different economists presenting differing expert opinion on the economic damages and methodology suggesting how to calculate it. 
Andrew's family and one of his teachers testified on their loss and shared their memories of a gifted, smart, and deeply loved child. Their testimony was extremely important to prove non-economic damages to the jury and to show the early indicators of Andrew's academic, creative, and emotional abilities. The intangible elements of the life Andrew would have lived were going to be determined by the "enlightened conscience" of twelve residents of DeKalb County. 
How Do You Win Over a Jury? - The Andy Griffith Show
During closing arguments, Bruce Hagen asked the jury to determine the loss of life from Andrew's perspective. In other words, to think of what is the value to Andrew of the life that was taken away from Andrew. He used the Andy Griffith Show to illustrate this to the jury.
"Those of you of a certain age probably grew up like I did, watching reruns of the Andy Griffith Show. When I think of that show, 2 things come to mind: the Theme song, which I can whistle from start to finish, and the image of Andy and Opie holding hands and walking with their fishing poles, on their way to go fishing. If this case involved damages from Andy Griffith's standpoint, you would put a value on the loss of the times that he had fishing with his son Opie. But looking at it from Opie's perspective, the loss is at least twice as great. Because not only would Opie lose the ability to ever go fishing with his Daddy again, he also loses out on the opportunity to grow up and have kids of his own and to take them fishing, walking hand in hand on a country road.
That's a part of the challenge for you in this case. Not only to consider the enormous loss, but to consider it from the perspective of the 6-year-old child who had his entire future taken away from him solely as the result of someone else's negligence." – excerpt from the trial transcript.
Asking For Justice
Bruce Hagen asked the jury to award a total of $48 million dollars. This figure included $8 million for economic damages + $40 million for non-economic damages. Bruce spoke to hearts of the jurors, "It's a number that you can be proud of, a number that reflect the conscience of this community. It's a number that would allow you to know that you did your job faithfully as a juror".
The defense asked the jury to return a verdict of $4.5 million dollars. Once both sides delivered their closing arguments, the jury retired to deliberate. They were Andrew family's only chance at full justice.
What are non-economic damages in a personal injury case?
Non-economic damages are different from other type of damages are easily to understand like medical bills after an injury or funeral expenses. Non-economic damages cover losses that can be more subjective, may include but are not limited to: 
emotional distress

pain and suffering

loss of enjoyment of life

loss of companionship

loss of consortium

intangible elements of life
The Verdict
Within two hours of deliberating the jury delivered a verdict of $14 million dollars in favor of the plaintiffs, Andrew's parents. Almost 5 years after losing their only child, Christopher Evans and Polina Denisova won their battle against an insurance company who refused to do the right thing and acted in bad faith. 
Our system of Justice empowers Jurors in an incredible way. The twelve people who showed up for jury duty answered the call to fulfill their civic duty and were vested with the power to see that Justice was served in this case, once and for all.
For Bruce Hagen, Matt Hagen and Bill Parker this was a deeply personal victory as well, not just because of their experience as wrongful death lawyers but as parents and grandparents themselves.  They worked with Andrew's parents for 5 years and played a key role in their journey after such a tragic loss. Additionally, Matt Hagen closed his first wrongful death trial with an impressive win.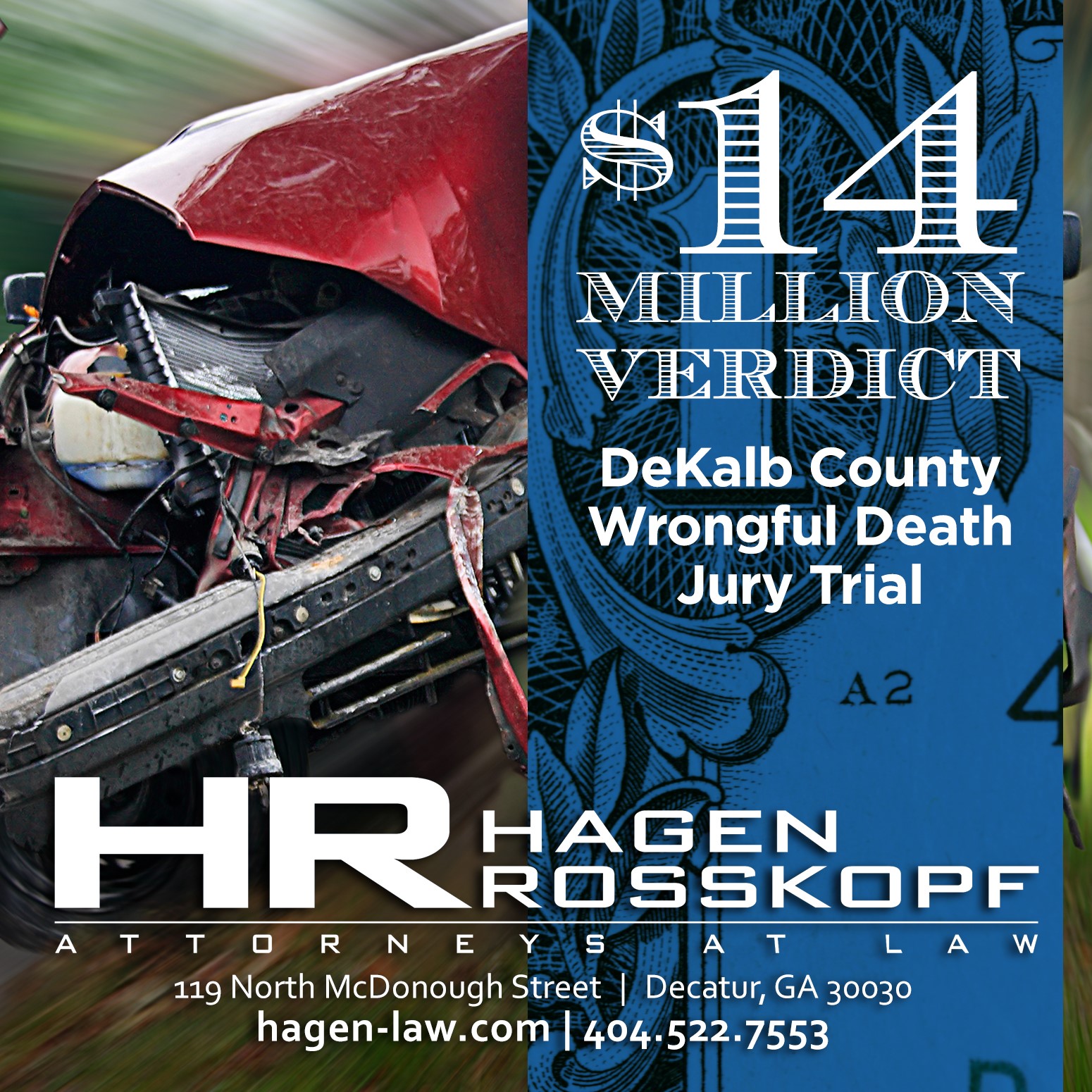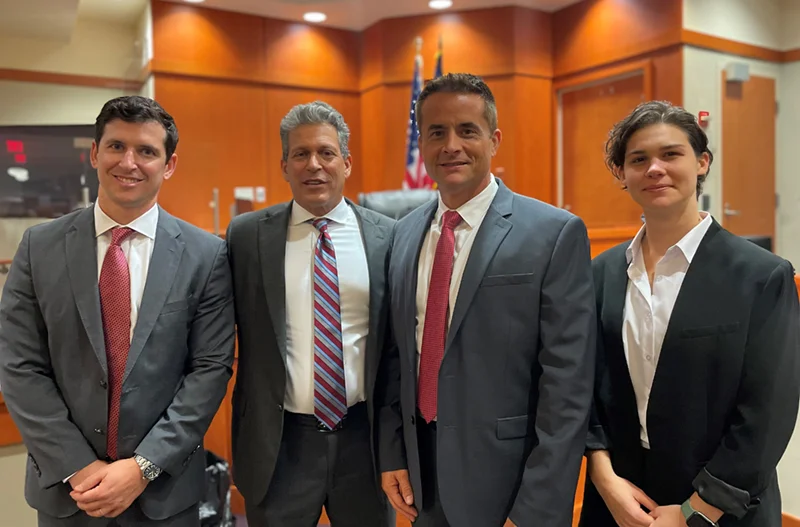 Wrongful death attorneys Bruce Hagen, Matt Hagen, Bill Parker and litigation paralegal Jenna Kahn-Foss at Dekalb County Courthouse.
The Legal Team
Bruce A. Hagen

– Firm Founder, Hagen Rosskopf LLC

Matthew R. Hagen

– Trial Lawyer, Hagen Rosskopf LLC

Bill Parker – Litigation Attorney, Montlick & Associates, PC

Dan Pruitt – Litigation Specialist, Hagen Rosskopf LLC

Jenna Kahn-Foss – Paralegal, Montlick & Associates, PC
Pursuing a bad faith insurance claim is not for the faint of heart and is considered a complex legal matter. You should talk to a lawyer with experience in bad faith insurance lawsuits since this is an instance in which experience is key.