Is It Okay to Kill Cyclists?
This was a question raised by a recent editorial in the New York Times. The writer, Daniel Duane argued that only when it comes to bicyclists, justice is often denied. "If your 13-year-old daughter bikes to school tomorrow inside a freshly painted bike lane, and a driver runs a stop sign and kills her and then says to the cop, 'Gee, I so totally did not mean to do that,' that will most likely be good enough." Why is this the case, and how can we change things?
A Cultural Shift
As biking grows in cities like Atlanta, we are seeing a rise in the number of bicycles on our roads. Unlike in Europe, which has more quickly adapted to bicycle-friendly roads filled with bikers, in the US bicycle users are literally on the bleeding edge of change. While cities are adding more bicycle lanes, in general roads – not to mention drivers – do not easily accommodate bicycles. Cyclists believe they should be respected and be able to be safe while on the road. This is a valid and true belief as the road belongs as much to a cyclist as it does a motorist.
Duane's editorial points out that we are a driver's culture. That means people don't think of biking as a necessary form of transportation, and see a crash involving a bike as an unavoidable accident, instead of a case of manslaughter. In a wrongful death case, juries tend to empathize with drivers, not their victims. This can be seen on the site of an accident and its police investigation as well. As Duane points out, "Most cops spend their lives in cars, too, so that's where their sympathies lie." Here's a great video about problems bike riders have with police.
And there are two sides to this story. Motorists say that many cyclists act like they don't have to obey traffic rules, which makes it difficult for cars to avoid hitting them.
What is a Solution?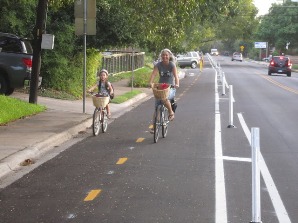 The fact is that if a cyclist is hit or involved in a crash with a car, there is a high probability of loss of life. This alone should be an important reminder to drivers to be more aware and cautious while sharing the road with cyclists, and for cyclists to follow traffic rules. It is of the utmost importance that both sides learn to respect traffic rules and each other while sharing the road. Some other possible solutions:
Vulnerable user laws that make drivers more responsible if they hit cyclists or pedestrians
Protected bike lanes
Allowing bicycles on suburban (not typically used) sidewalks
If you find yourself in the unfortunate position of being involved in a cyclist/vehicular accident, don't become a victim a second time! Contact a personal injury lawyer to ensure you receive justice.
Famous people killed in bike collisions
Estonian professional cyclist Lauri Aus, 2003
French composer Ernest Chausson, 1899
American cabaret singer Mary Cleere Haran, 2011
British philosopher Kenneth Craik, 1945
Canadian painter Greg Curnoe, 1992
Canadian lawyer Dugald Christie, 2006
Italian racing bike manufacturer Lino Gastaldello, 2010
Australian musician Mary Hansen, 2002
American singer Vernon Isley, 1955
American writer Ken Kifer, 2003
American model Audrey Lindvall, 2006
American composer Eric Qin, 1993
American folk singer Alexis Gewertz Shepard, 1998
American gold medal cyclist Darren Smith, 1992
French race car driver Bob Wollek, 2001