June is National Safety Month
Make It a Safe Summer for Your Kids
Summer is the time to make memories and enjoy the great outdoors; however, there are risks that everyone should be aware of to ensure safety. A few quick tips and a few bits of knowledge will go a long way.
Staying Safe Around the Water
Drowning is the number one cause of unintentional death in children under four years old. In fact, every year close to 400 children dies from drowning. Even in a pool under a foot deep, a child can drown so using pool safety devices, such as floaties and life vests, are important. An adult must always be present.
But the water itself is not the only danger around swimming pools. The CDC reports that each year almost 5,000 people are injured from pool chemicals. Half of these victims were under the age of 18. The CDC recommends some basic safety guidelines:
Always read and follow directions on product labels
Wear safety equipment, such as goggles or a mask, when handling chemicals
Keep young children away when handling chemicals
Lock pool chemicals away from children and pets
Do not mix different pool chemicals
Pre-dissolve pool chemicals only when directed
Never add water to pool chemicals, only the reverse
Reconsider the Trampoline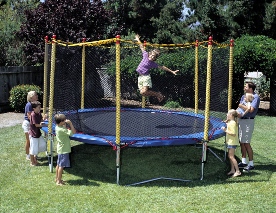 Kids at home during the summer spend a lot of time on backyard equipment. One item to reconsider is the trampoline. The American Academy of Pediatrics strongly advises against allowing children to play on trampolines. In fact, a ten-year study published in the Journal of Pediatric Orthopaedics noted that there were over a million emergency room visits during the decade, almost 30% of which were for fractures. If your kids are devoted to the trampoline, at the very least keep these safety tips in mind:
Only one child should jump on a trampoline at a time
An adult should provide supervision at all times
No other equipment should be used on the trampoline
Don't use a trampoline that is over 10 years old – it will not have appropriate safety features
Use netting and padding around the trampoline
Locate it on a level surface, away from hazards like trees, walls or rocks.
Keeping Comfortable in High Temperatures
Hot weather can cause problems for people of all ages. Make sure that everyone spending time outdoors is wearing a broad-spectrum sunscreen to avoid sunburn. Sunscreen should be reapplied frequently if you're sweating or spending time in the water. If the weather is particularly warm, schedule breaks out of the heat so kids can cool down and avoid heat illness.
Understanding the Most Common Accidents and Injuries
Falls and burns are very common during the summer months. While most of these aren't serious, some can be. Kids should wear helmets while biking to prevent concussion and other serious head injuries. Knee pads and elbow pads are also a good idea, especially for kids roller skating or using a skateboard.
Burns can occur with hot grills, metal items sitting in the sun and fireworks. Place grills out of the way of children's play areas. This Independence Day, make watching fireworks – not handling them – a special family event. Take advantage of the long days of summer to capture great memories, while avoiding trips to the emergency room.